This styling feature for Template Reports (reports pulled on templates to present multi-record details, such as Communications, Child Medical Exams or Persons in Home) allows selected fields from the report to show on a second line. This allows Memos and other lengthy fields to have an additional row to display their detail. This can save space for printing. 

To setup this Field Property: 

1. Open the Field. This can be done through Settings > Tables and Fields > Select the Table > Select the Field. Alternatively, you can access the Form Customizer view of any form, then click on the name of the Field.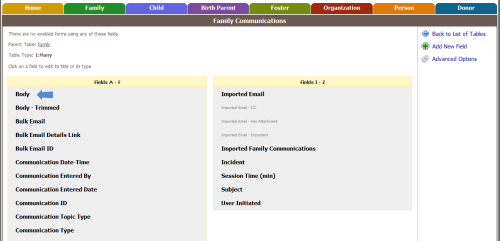 2. Click Advanced Options.
3. Click View Field Properties. 





4. Change the Template-Report - Show on Separate Row field to Yes.