Insert Document Link (such as a PDF)
Upload a PDF document and SAM will convert it to a link that will allow download of the PDF on an email template. This feature eliminates attachments.

Note that documents linked on templates are public - anyone with the URL of the document can access it. For this reason, you should never upload sensitive documents onto a template.
1. Open the template you'd like to use.
2. Insert your cursor inside the template designer body where you'd like the document link to appear.
3. From the sidebar, click Advanced Options > Insert Document Link
4. Choose the document from your local drive.
5. Enter the text for the Link. Click Save.
Insert Form Link: Link to a form in SAM
Include a link to a form for a record, such as the Home Study Form for a Family. This is very helpful for getting staff to a record which triggered an Auto Action.
To add a hyperlink to a specific form to a specific record or form in SAM in a template:
Open the template
Place your cursor where you want to add the link.
Click Advanced Options > Insert Form Link
Select the form you want the template to take the end user to. Click Save.





The link will be added to the template very much the same way a field is added.


Templates based on multi-record forms do not allow users to add forms higher up in the hierarchy. However, users can "hack" this by copying the form link from another template onto the multi-record template.
Insert Fields from Form
This function allows all fields from a form to be inserted on a template that can be printed with logos and other details that are not displayed from printing a SAM form. SAM Admins won't need to insert each field individually, saving time in creating the template.
1. Open Template > Advanced Options > Insert Fields from Form.
2. Select Form. Press Save.

Select the options as appropriate for the document you're creating.





Section Headings and Fields are added in order of the Form.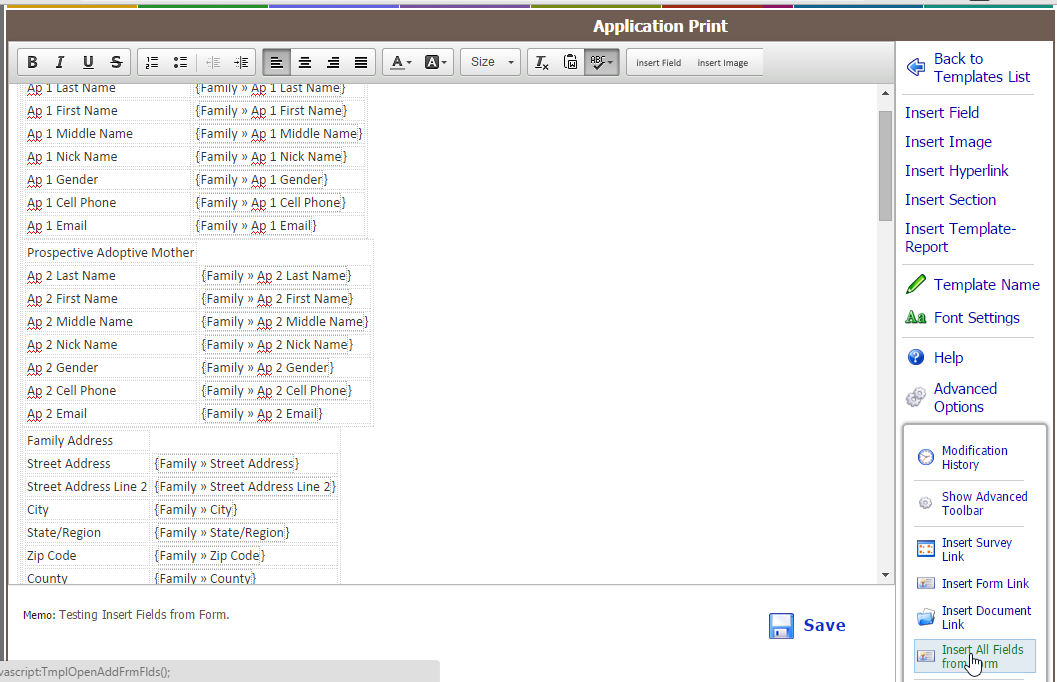 Auto Actions Used On
Under Advanced Options there is a link titled " Auto Actions Used On" which opens a pop-up with a list of Auto Actions links that the template is used on.