Multi-Record Templates allow stylized formatting for email or print on Multi-record tables.

To use a Multi-Record Table in a Template, you must setup a Template based on that Multi-Record table alone. No other Multi-Record tables can be used in that Template. (This is necessary because of data-relationship logic; it wouldn't be possible to view all documents and all communications on a single report.)

Multi-Record Templates can be used on a "parent" Template. A parent template should be based off the Main Entity or the Case table, typically. It's possible to include several Multi-Record Templates, like Multi-Record Sub-Forms included on a larger form, like the Cover Page or Application Form.

Multi-Record Templates can be selected from "Print or Email Templates" link under Advanced Options of a "1-at-a-time Details Form" based on that Multi-Record Table. (SAM will not allow a multi-record template selection from an Overview form because SAM needs to know the specific record to use for the Template, which is only possible on the "Details Form".)

The "Current/Latest Record" functionality allows you to use the Current/Latest Record from a Multi-Record Table on a Regular Template. When you enable the "Current/Latest Record" for a Multi-Record Table, a copy is created of that Table which shows one record at a time, so you can include the new "Current/Latest Table" to a Regular Template. This is mainly for items, like Licenses and Home Studies.

Template-Reports are another option for displaying Multi-record tables, but they are limited in styling. Template-Reports show one row per record and cannot change the field titles, but they can show Totals, so are good for accounting related templates.
Setup a Multi-Record Template and Add to Another Template
"Create New Template"
On the "Select Tables Shown on Template" - check the box for "Select Multi-Record Table" and choose the appropriate table from the List
Setup this new Template (Insert the Fields)
"Create New Template" for the Container Template (if you don't have a template already that you will be using that Multi-Record Template on)
In the Template Designer, place your cursor in the desired location for the Multi-Record Section and Click the "Insert Multi-Record Section" link from the Sidebar
A Popup Will Open
Click the "Multi-Record Template" radio-button and Select the desired Template from the Drop-Down List
Once you press Save, the Multi-Record Template Section will be inserted into the Template where you had your cursor
These screenshots show you the key parts of this process: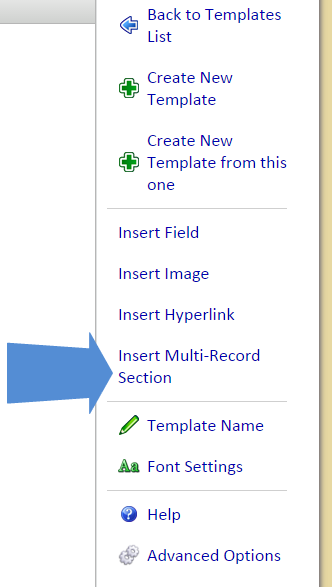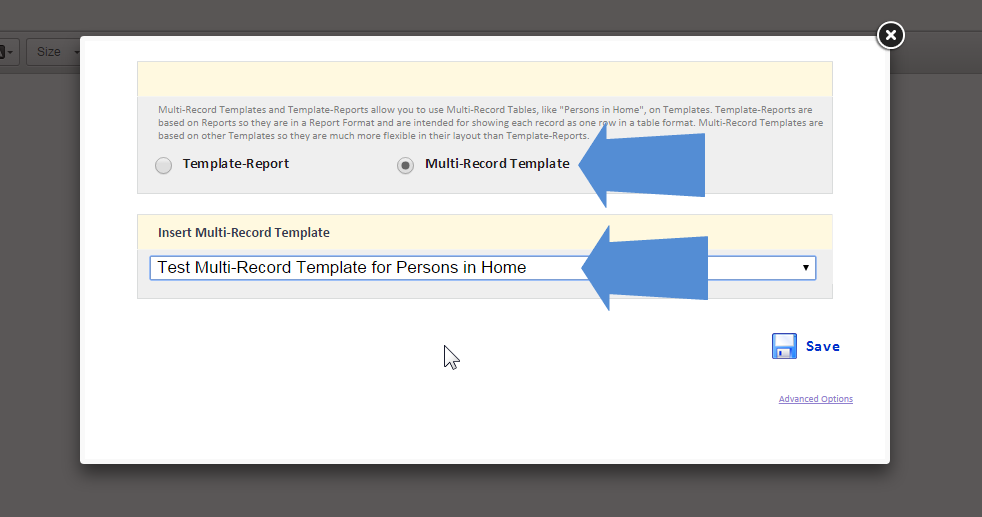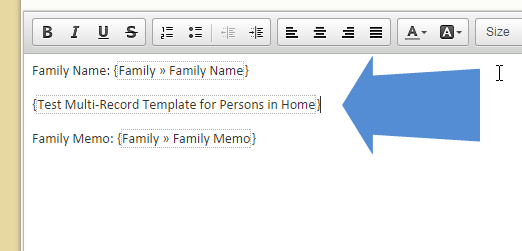 To use a Multi-Record Template by itself, you have to have a 1-at-a-time Details Form (meaning it only shows one of the records from a multi-record form). The "Print or Email Template" option will be shown in the Advanced Options, which will allow you to choose the Multi-Record Template, which will only pull the data for this record.