A survey that is no longer needed can be deleted. 

To delete a survey 
1. Open the Survey. Settings > Surveys > Click the Details link. 





2. Click Advanced Options > Delete Survey. SAM will confirm before deleting.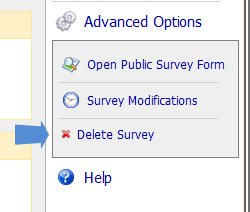 The survey and form will no longer be stored in SAM. 
A survey can be disabled by accessing the Form Customizer view of the form. 
To disable a survey
1. Settings > Form Customizer > Click on the name of the Survey. 





2. Click Advanced Options > Really Advanced Options > Disable Form. An alert will be shown at the top of the screen to notify users the form has been disabled.