Insert Field
Click Insert Field
Choose the table from the drop down list and then the specific field. The field will be placed in the document where your cursor is located.
Beneath the Table selection drop-down, you can use the "Add Tables to Template" link to select additional tables, if you cannot find the field you need. If you do not know which table, you can use the Fields Report to search by Field Name.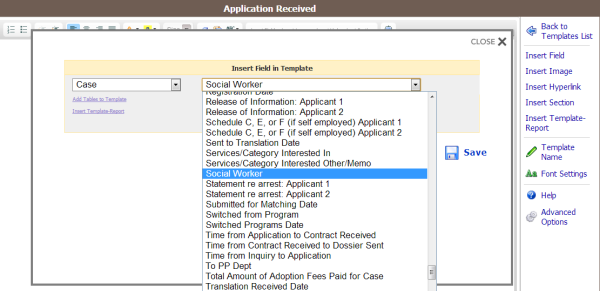 Delete Field
If you want to delete a field, press the backspace button on your keyboard when your cursor is behind the field or press the delete key if your cursor is before the field.
Insert Images
Insert your cursor inside the template designer body where you want the image to be placed.
Click Insert Image on the side bar.
Browse your files and open the image you want to add.

Remove or replace spaces in image file name to an underscore or dash, so the file name remains legal. Spaces within the file name may cause errors when displaying images in emails or other web-based applications.


Add an alternate text should a recipient have disabled images and cannot view an image.
The image can be deleted if necessary by deleting as you would with text.
Double-click on an Image inserted in the template designer to view Image Properties.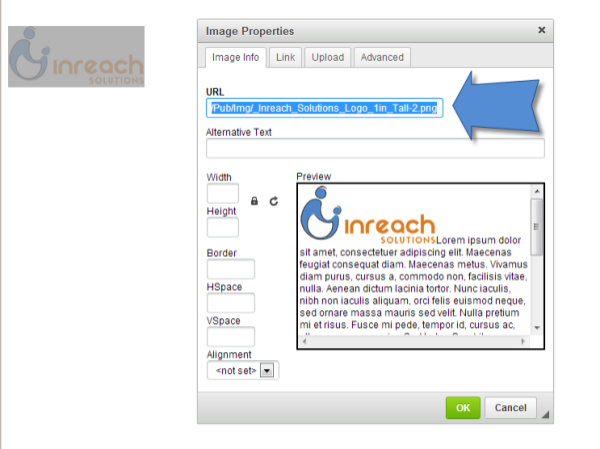 It's important to use appropriately sized images in the Template designer as they will display at the size uploaded.
Insert Hyperlink
Insert your cursor in Template Designer body.
Click Insert Hyperlink on the side bar.
Include the web address of the site. The web address should begin with http://
Enter Hyperlink text if you want the link to say something rather than show the actual web address.

If this template is for printed letters, do not include the hyperlink text, as the reader will not know how to reach the site.


Check/uncheck option to have the site open in a new page.
Click Save.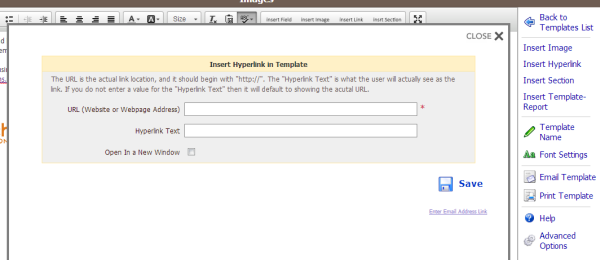 Insert Multi-Record Section
Template-Reports
and
Multi-Record Templates
allow you to pull multi-record tables onto a template. Information like Medications, exams, Persons in Home, Academic History, Placements, Benefits and Services, Completed Education, and Documents are examples.
You will need to create a report to be pulled on a template. This report does not need to have the record's name or ID, SAM knows the records that relate to the main entity.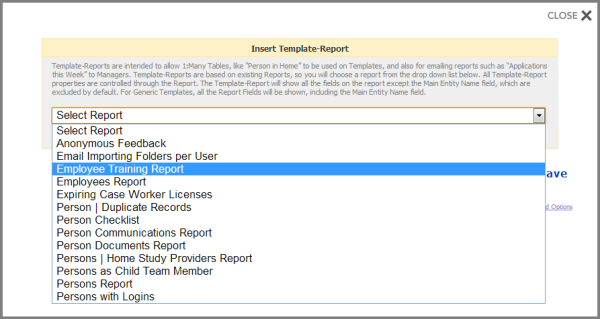 Beneath Save, there is a link for Advanced Options. Click link to opens checkbox : "Generic - Non-Entity Specific Report". Mark this checkbox to pull all records on the report, rather than just those that relate to the Main Entity.
In this example, you might have a template going to the HR Manager Monthly that shows all Employee Training Records, rather than just the Employee Training Records that relate to the HR Manager. They can now view the records for every employee.