The temporary decryption password is available upon request by a Full Admin user from Inreach Solutions. You can request this if you are a full admin via the "Support" link in your site.

Upon receiving the temporary password, please reset the password and make it available on a need to know basis. This password is requested to view SSN and other encrypted fields.
Reset the Decryption Password:
Open the Security Center from the Home Page.
Click Advanced Options.
Click Reset Decryption Password.
Enter the temporary password, then the new password and confirm the new password. The new password will be set. Please keep this password in a safe and do not share the password with every user.

Should you forget the new decryption password, reach out to our team via the "Support" link in your site. We will be able to reset your password only at the request of Administrative/Full Admin users of your SAM.

Print Decrypted Fields
When encrypted fields are add to templates, the encrypted field will not be shown by default. It's encrypted. This feature is for fields like Social Security Numbers.

When you print a template, SAM will prompt you to enter the decryption password at the top of the Print/Email Template, but only once per session.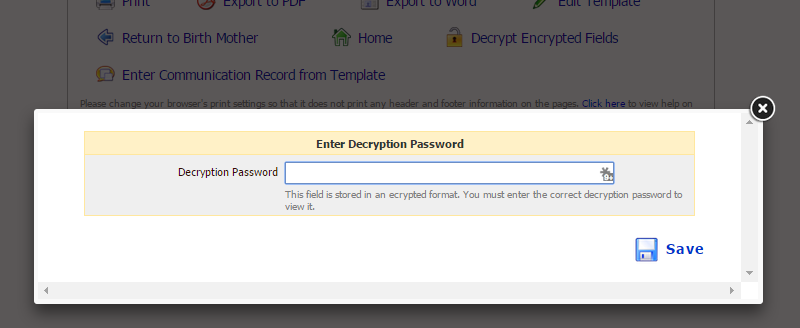 Your SAM Admin will know the Decryption password. See this help, if you need to reset the password.