Filters are used to narrow the results of your data to suit your needs. There are several ways to filter through SAM's reports.
Default Filters
Filters present when a user initially opens a report. These are set from Report Builder.
Report Filters
Filters that narrow results for a specific purpose. These are set on the report directly and are temporary.

Search
The most advanced way to filter is by using the Search button on the Report toolbar. This feature allows you to search for records using values that may not be shown on the report or to select multiple criteria for your specific need.

An example of a simple query from the Donations report is to find all Donations made this year where the Donation Amount is greater than $200. This type of request would require the Search.

When you click the Search button a filter page will open. Should you have any existing filters applied to the report, those will be listed.



Add a new filter:
Click Add Filter.
Select the Table, then select the field to filter by.
Select an operator that describes your request. Different operators will be available depending upon the field type that you selected.
Depending on the operator chosen, another field may open requesting input to what should be filtered. Enter the filter value.
Select Results Must Match All Filters or Results Must Match Any or Some Filters. Please see below for an explanation of how this selection will alter the results in your report.
Press Save when you are satisfied with the filters. You can always re-open the Search button to add, delete or modify the filters.

Results Must Match All Filters
this option is an "and" operator. In other words, every filter applied must be true in the results. This would not be a good selection when you want to select multiple countries, or multiple programs, or multiple case workers.
Filter Setup:





Results: Three donations were made in 2012 which were also greater than $200 last year.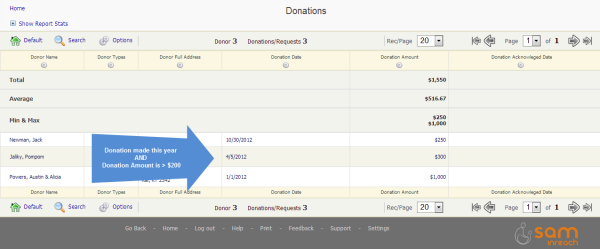 Results Match Any or Some Filters
this option is an "or" operator. It allows the results to display the first filter and the subsequent filters; any of the criteria can be true. When this option is chosen, a Must Match checkbox will open next to each filter. Therefore, all filters can match, but when Must Match is checked, that criteria, must be in the results.
Filter Setup:





Results: There were more donations made between the current year and last year and all were greater than $200 (Must Match).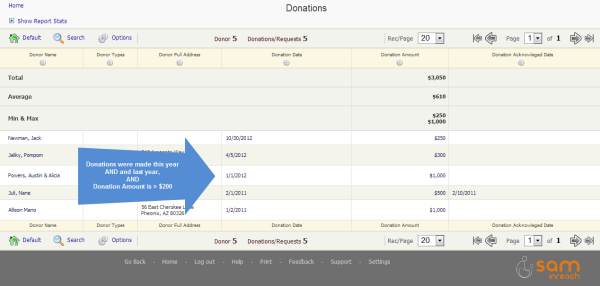 Through the example above, the Results Must Match All or Any makes a difference in the results we retrieve on the report.