SAM allows you to export email addresses via a report to move email addresses related to the entities/records of a report to another application.
To Export Email Addresses Out of SAM
1. Open the Report.
2. Click Options.
3. Click Export Email Addresses.
4. Confirm or modify the settings for Records/Entities to Exclude from the Email Export. By Default, most reports are setup to exclude records where "Opt Out of Email/Mass Mailings" = Yes, but there may be others. Review the View Records Matching this Criteria link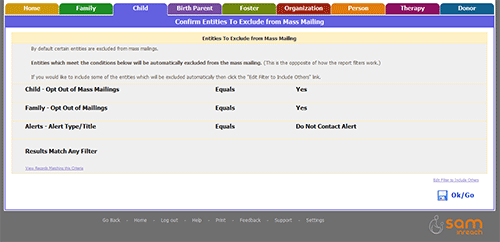 5. Place a checkmark next to the email address you want to export. You can choose those for the primary entity/record or an entity associated with the primary entity, and as many or as few email addresses as necessary.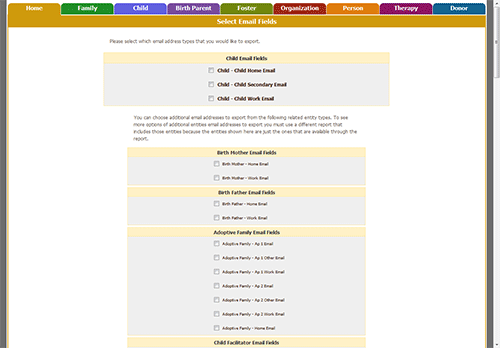 6. Copy all of the email addresses inside the text box and then paste them into the other program you are using. Control+A is a keyboard command to select all of the entries.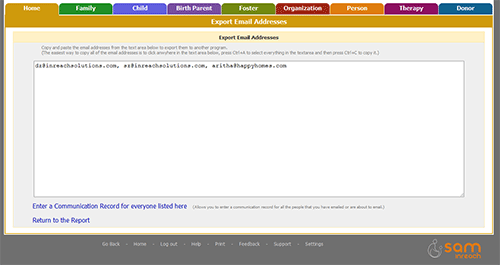 SAM separates each email address with a comma, but in some programs you may need the email addresses separated by a semi-colon or other symbol. You can easily run a "Find and Replace" using Notepad to change this. See more instructions below.

7. You can choose to end here and click any link to continue, or select Enter a Communication Record or Return to the Report. If you choose Enter a Communication Record from everyone listed here, SAM will prompt you to enter a Subject and Body. This message will be stored in the Communications link on the exported email address's record.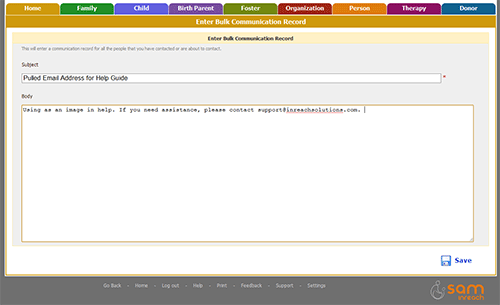 Return to the Report, will direct you back to the Report that you began working on.

Troubleshooting
Though you requested multiple entities and several email address options, only those that have been entered will show. Ensure that the entity actually has the requested data input, then try to export again.

---
Find and Replace using Notepad
To change the comma separated email address listing to a semi-colon or other symbol, use Microsoft Notepad to modify the results.

In SAM:





In Notepad: