SAM Reports allow users to edit and communicate with records on the report.

Click Options to view actions. Report Builder (Edit this Report) and Bulk Email (Send Bulk Email & Create Email Distribution List) are modules which may not be available in your SAM.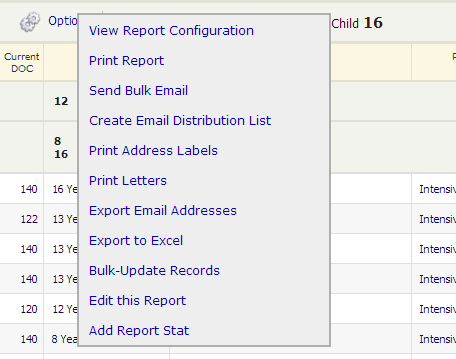 View Report Configuration
This provides you with information on how the report was put together. This shows the Entities also known as Tables shown on the report, the Default Filters and the Default Sorting that's applied. This is how the Report is presented by default. This helps you compare apples to apples when reviewing multiple reports.

"Must be In Results" is shown next to an entity/table. This option will change the results of the table. All records shown on the report MUST also have a record from the additional table shown. In this example, Children are shown and they must have a current placement record, otherwise the child's record will not be shown on the report.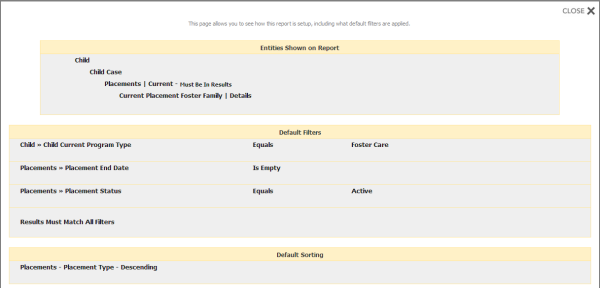 Print Report
This takes you to a Print Preview of the report. Depending on your browser, the options will be different. You will be able to specify the printer, layout, margins and other printing options from here.

Send Bulk Email
Users can send an email to multiple records at one time through Reports. Once your report displays the records you want to communicate with, click Options > Send Bulk Email. This option is only available with the Bulk Email module enabled.

Create Email Distribution List
This feature creates a list of email recipients from your report based upon your selections from the prompts. This list of recipients can be used to send a bulk email without having to return to the report. This list is NOT updated dynamically like a report. Once the distribution list is created, those records remain on the list until modified in the distribution list section.

Print Address Labels
Print address labels for the records on a report from a standard template, like Avery.

Print Letters
Print documents for the records of a report from templates that are built in SAM.

Export Email Addresses
Pull the email addresses for the records on a report to use in a separate program to email in bulk.

Export to Excel
This option allows users to open the report, as displayed onscreen, into Microsoft Excel. Once selected from the Options Menu, the download will be available from your browser. Each web browser will be somewhat different in the response once 'Export to Excel' is selected. You may also check your Browser Download History if a popup is missed.

This exports the report data in a CSV (coma separated values) Format which can be used to import the data into other programs.

Bulk Update Records
Update multiple records at one time with a specified value.

Edit this Report
This link opens the Report Builder for the Report you are accessing. Through Report Builder you can modify reports and create new ones. This is only available if the Report Builder is enabled in your SAM.

Add Report Stat
Add a Report Stat to the top of this report to quickly filter and see calculations about the records shown on the report.