Public Forms can only be created on a Main Entity or its Case. 
Forms based on multi-record tables can be set as a Public Form. However, these forms must be added as a sub-form on another Public form based on the Main Entity or its Case. 
Instructions
1. Click Settings > Select Form Customizer.
2. Click Create new Form from the side bar.
3. Select the Entity Type (must be a Main Entity). A second screen will open to Select the Table. You must also select a Main Entity. Click Save.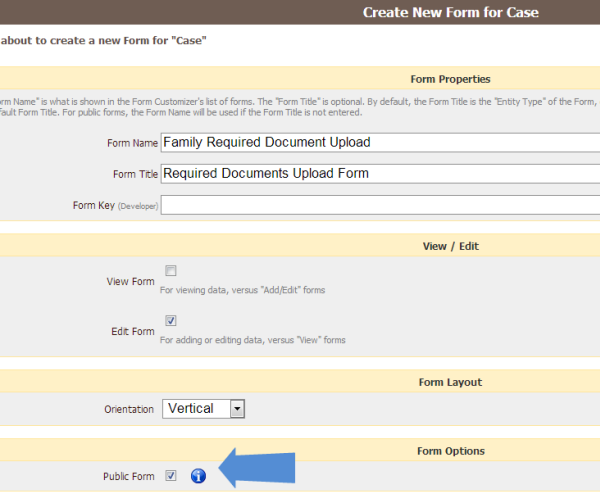 4. Name & Title the Form.
The Form Name is used internally while the Form Title is used as the Heading for the Form.
An example would be a Form Name = General Volunteer Form, and Form Title = Inreach Solutions Volunteer Request Form. 
5. Click Public Form checkbox. Once this checkbox is selected other selections that do not apply will be hidden. Press Save. 
6. Add fields and format the form.
Format Public Forms
Public Forms building/formatting is done through the Form Customizer. 
Considerations for Public Forms
How will you share your online form? 
How will you share the URL of the form? Ex: website or email? 
What messaging should be shown on the form to explain expectations? 
Do public form users need to login?
Users must login to update and view information to complete form. Initial inquiry or Intake forms may not need a login. 
On completion: 
If it make take the user multiple attempts to complete the form, do you want to add a checkbox for the user to select when the form is complete?
What do you want to say to the user after submission? Ex: thank them or provide additional information?
Do you want an email sent to notify your team or the user upon completion? 
Do you want any other fields updated when the form is submitted?
Ex: Application form submitted

Case Stage = Application,
Application Received Date = Current Date
Do you collect payment from the form? 
Payments can be accepted as fees or donations. Learn more about Credit Card Processing in SAM.