Public Forms can only be created on a Main Entity or its Case. 
Forms based on multi-record tables can be set as a Public Form. However, these forms must be added as a sub-form on another Public form based on the Main Entity or its Case. 
Instructions
1. Click Settings > Select Form Customizer.
2. Click Create new Form from the side bar.
3. Select the Entity Type (must be a Main Entity). A second screen will open to Select the Table. You must also select a Main Entity. Click Save.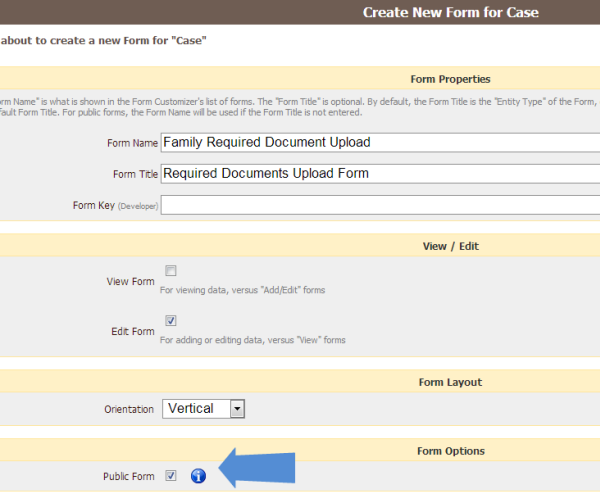 4. Name & Title Form
Form Name is used internally for Admins. Form Title is used as the heading for the form and displayed to users.
5. Click Public Form checkbox. Once this checkbox is selected other selections that do not apply will be hidden. Press Save. 
6. Add fields and format the form using Form Customizer. 
7. Make decisions about how the form is shared and formatted. Our guide on Considerations for Public Forms will introduce you to those decisions.