Most Public Forms are based on the Main Entity table or its Case.
Forms based on multi-record tables can be set as a Public Form. However, these forms must be added as a sub-form on another Public form based on the Main Entity or its Case.
Instructions
1. Click Settings > Form Customizer.
2. Click Create new Form from the side bar.
3. Select the Entity Type.
A second screen will open to Select the table. You must select a Main Entity or its Case. Click Save.
Setup your new form:
4. Name & Title Form
Form Name is used internally for Admins.
Form Title is used as the heading for the form and displayed to users.
5. Click Public Form checkbox. Once this checkbox is selected other selections that do not apply will be hidden. Press Save.
6. Add fields and format the form using Form Customizer.
Options in Form Properties
On the sidebar, access Public Form Properties to change settings on the form.
Advanced Options > Public Form Properties
Under "After Information Is Saved", you will see three (3) options.
Select an option for how to direct users after submitting their data
Show a Message
Enter a Message in the box presented, such as "Thank you, your information has been saved. " HTML can be used to format the message.
Redirect the user to a page I designate
This option will allow you to direct the user to any web page of your choice. You must enter a valid URL for this selection to work.
Redirect the user to another SAM form
This option will allow you to direct the user to a SAM Public form. This is the choice you'll use for multi-part forms. Determine whether the form is available as View or Edit.
View Form will display the information for ease of reading and better printing.

Edit will allow the user to input additional information.
5. Click Save to complete your changes.
Use the existing case or create a new one
When end users haven't completed a form in full and need to access the form again, SAM wants to create a new case. However, that may not make the most sense when they are working to complete a detailed/lengthy form.
Admins can add criteria to the form to set when SAM should use the existing case, instead of creating a new one. By default, SAM is setup to use the existing case when the "Case Entered Date" is within 12 Months.
To change the setting for "Use Existing Case" for your form
Open the Form Customizer > Advanced Options > Use Existing Case for Form Criteria
Enter the Table - Field Name, then specify criteria Determining the criteria can take a little forethought, but consider your Case stages, date entry that happens around the form submission. For example, "Case Stage = Application" or "Application Received Date within 6 months".
Click Save.
To Modify the Default Criteria
The Default Criteria is specified per main table, so Child forms may have different default criteria than Family forms. Click the link in the hint at the top of "Use Existing Case for Form Criteria" form.
If you want the form to use the latest case, then enter "Case ID" "Is Not Empty" or some other criteria that will always be true."
Create Internal Sibling Form for Public Form
Public forms cannot be used as sidebar links for your team internally, so Admins must setup Internal Sibling Forms, which are duplicates of Public Forms.
Users can edit the Internal Sibling Forms when they are set as an edit form. Internal Sibling Forms cannot have different fields or layouts from their Public counterparts, but can have different Form Properties, such as "Form Title".
If a Public Form doesn't have an Internal Sibling Form setup, then you will see an option to "Create Internal Sibling Form" under the Advanced Options. Once a Public Form has an Internal Sibling Form, you will see an option to "View Internal Sibling Form" in the Advanced Options of the Form Customizer for a Public Form.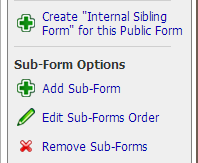 To add a link to an Internal Sibling Form
You can use Sidebar Links Manager to add links to Internal Sibling Forms just like any other form, as Public Forms cannot be linked to internally for viewing or editing.
Make decisions about how the form is shared and formatted. Our guide on Considerations for Public Forms will introduce you to decisions.