Prefill Groups are used to add a group of sub-records, like Accounts Receivable (AR) or Parent Education, under a Main Entity/Record. This is helpful to have SAM enter required records based on your processes.
Prefill Groups can be added manually or they can be triggered using Auto Actions. ​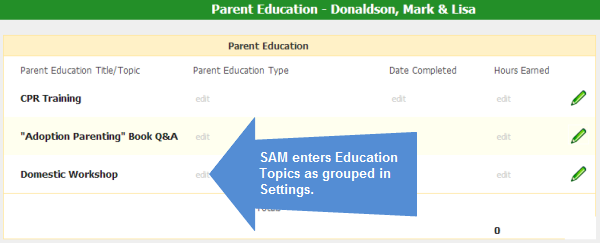 Prefill Groups are based on a List Field on a multi-record table, like "Fee Type" for Accounts Receivable (AR) or Topic for Parent Education.
Prefill Group Examples
Country/Program Specific Fees from A/R Records
Benefit Types common for Birth Mother Services/Benefits
Parent Education Requirements
Groups of Documents (Document Checklists are Prefill Groups under a separate naming convention because everyone deals with Documents).
Prefill Group Limitations
Most Prefill Groups can only enter the List Field the Prefill Group is based on.
The Adoption Fee AR can specify the Fee Amount when the Default Amount is specified on the List Item. If you want more data entry on the record, then a series of Auto Actions is a better option.
Enable Prefill Group
1. Open the form where you would like to add the Prefill Group.
2. Click Advanced Options.
3. Click the "Enable Prefill Group for Table Name".
This will only be available on Forms based off of a 1:Many Table that also have a list field.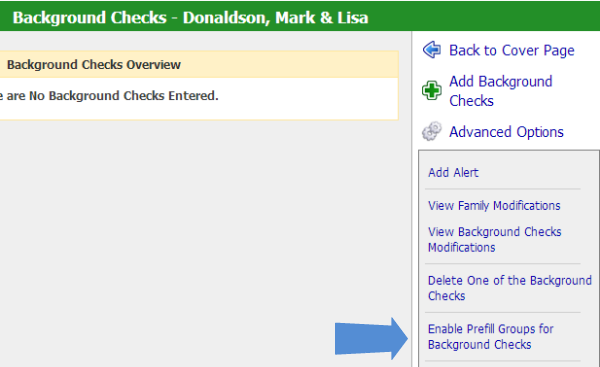 4. Name the Prefill Group. SAM auto enters a name based off the table.
5. Select the list the Prefill Group will be pulling from. Only list fields from the target table will be shown. Click Save.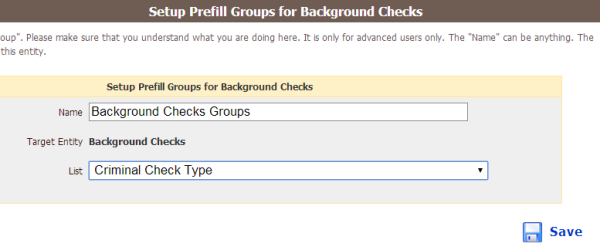 6. You will be directed to name a Group within the Prefill Group since no other groups exist yet. Multiple groups can be setup under a Prefill Group to segregate groups for different programs, case types, or other ways of categorizing your records.

7. Add the first item to the Group. The Items available are the List Items for the List field, which was selected to base the Prefill Group from.

To add more list items, add to the list as you would any other List.

8. SAM will direct you to the Edit Group screen. Use the side bar to add, delete and edit the order of the items in the group. You can also edit List Items.



Manually add a Prefill Group
1. Open the Record/Main Entity > Open the form where the Prefill Group exists.

This would be on multi-record tables/forms, such as Communications, Services, Documents, Case Notes, Medical Exams, etc. Prefill Groups are called Document Checklists on Documents.

2. Select the Group to apply from the list of available Groups.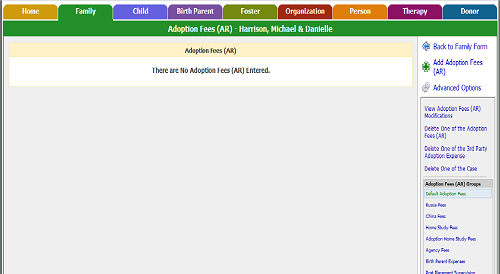 3. Confirm the selection and the records will be added to the Parent Record automatically.

Lists that have attributes or Amounts will be prefilled. As shown, the Fee Amount for each Fee Type (Group/List Item) is entered automatically.