Prefill Groups are used to add a group of sub-records, like Accounts Receivable (AR) or Parent Education, under a Main Entity/Record. This is helpful to have SAM enter required records based on your processes. Prefill Groups can be added manually or they can be triggered using Auto Actions. ​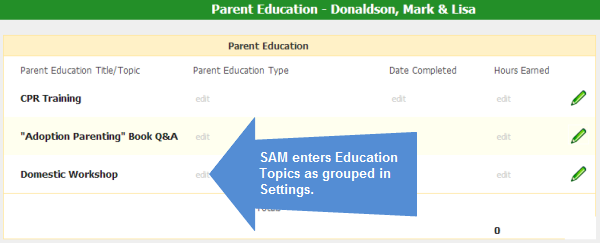 1:Many Tables under the Main Entity are the sub-records. Prefill Groups are based on a List Field in the sub-records, like "Fee Type" for AR or Topic for Parent Education. 
Prefill Group Examples
Country/Program Specific Fees from A/R Records 
Benefit Types common for Birth Mother Services/Benefits 
Parent Education Requirements
Groups of Documents (Document Checklists are Prefill Groups under a separate naming convention because everyone deals with Documents). 
Prefill Group Limitations
Most Prefill Groups can only enter the List Field the Prefill Group is based on. 
The Adoption Fee AR can specify the Fee Amount when the Default Amount is specified on the List Item. 

If you want more data entry on the record, then a series of Auto Actions will be needed to enter each record separately.