You can require that clients login to view public forms, and some forms such as the checklists, always require that clients login.
End users should use the same email and last name associated with their SAM record, then click "Forgot or Don't Have Password" to create a login:
Resetting the Password
SAM does not save password details, so for a user to reset their password, they must follow prompts to reset or create the password.
Click the "Forgot or Don't Have a Password" link located next to the Password entry field,
SAM will direct the user to a "Reset Your Password" form. Enter an email address on record and the Name requested. Click Submit.
 Most record types will request the last name only, but a form based off an Organization will request the Organization's name. The Organization Name must match exactly for SAM to work properly. 

If the email address/password combination do not match, SAM will notify the user. The user will need to contact your organization to recover an email address and name if they are unable to enter the correct combination.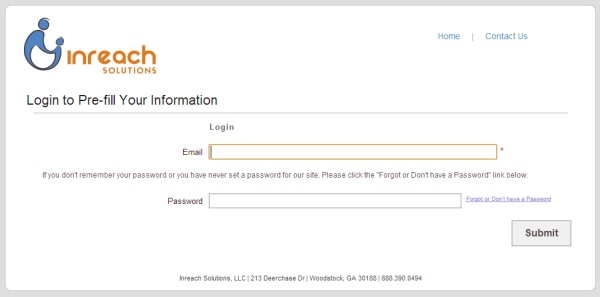 3. An email will be sent to the email address from your 
Default Email Sending email account
. The email will contain a link so the user can reset their password. 

4. The link will request the user input a new password and confirm the password. Click save when complete. At this time, the user can access the original form link and login with new credentials.