Before you begin:
To setup email importing, a SAM admin must enable and supply SAM with your email server details.
You must also get an app password for your Google or Office 365 email account. See this guide for details.
Once this step is done, each SAM user that email importing should run for must enter their email credentials, so SAM will check their specific email account for emails to import. After you enter your default settings, scroll to the bottom of this guide for a link to individual user setup.
1) Find your IMAP settings
Your email server details are generally readily available online (you can google "IMAP settings" for your email provider), but it may be necessary to contact your IT person for support.
Technical Details
Email Importing uses IMAP commands. Most email servers have IMAP enabled by default, but if you are managing your own email server you will need to enable it.
SAM indexes all the emails for each user, except the emails in Excluded Folders. SAM pulls down email addresses and subject line; the body is not retrieved unless the email is going to be imported into the Communications. Attachments are not retrieved. Each time email importing runs, SAM checks for new messages using an IMAP Message ID, so a message is never indexed more than once.
Additional settings to consider
Excluding emails from importing: You might want to exclude certain email addresses or emails from a specific domain from being imported into your records. Your agency's URL is added to this list by default. For more information see this guide: Email Addresses and/or Domain Names to Exclude
"Email Importing for Organization" and "Person by Matching Email Address" is disabled by default due to the risk of importing intra-agency or other sensitive emails. If you enable these options you must be sure to have all your email domain names entered into the "Domain Names to Exclude" field and personal email addresses entered into the "Email Addresses to Exclude" field.
Entity Specific Email Importing Options - Check the boxes for each of the entities that you would like to search emails for. If you do not communicate, or want email importing enabled for some of the entities: uncheck the appropriate boxes. This will enhance performance.
2) Now you're ready to enable email importing for SAM
Go to Settings > Email Importing Settings.
Click Edit Email Importing Settings from the side bar.
Check the box for Automatic Email Importing Enabled.
Enter your email server and IMAP settings.
Some servers require SSL (encrypted connection), so if your email server requires this, check the box for Default IMAP Server Requires SSL.
The first run of email importing may take several hours. We recommend enabling email importing for new users on a Friday afternoon, as it can take up to several days to index all emails in a user's account and slow down your email server.
Email importing can take several hours for the emails to be imported by the ID in the subject line, due to the speed limitations of text searching through so many emails.
Email importing does NOT import attachments. Space would be consumed rapidly as well as a decrease in system performance. SAM does not have logic for handling imported document attachments for being stored in the Document section. Please refer to the original email for document attachments.
3) Viewing imported emails
Emails imported to SAM from Email Importing will be labeled as Imported Email = Yes.
You can see the details of imported emails, such as the "From" and "To" email address by clicking Advanced Options > Imported Email Details from the Communication Details form. If you don't see this option then it means the email was not imported.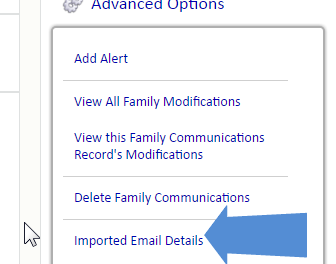 4) Manually initiate email import
SAM Admins may manually initiate email importing to have your emails imported immediately versus waiting until the next scheduled run time by:
Access Settings > Email Importing Settings
Click on "Manually Initiate Email" Importing
Select how far back you want SAM to search
Click Save to start the email importing
This option will not duplicate emails that have already been imported by email importing.