Auto Action: Update a field trigger
Some examples of using the "update a field" Auto Action:
When the home study packet is sent out (the HS Packet Sent date is updated) I want SAM to insert a background check record with the first applicant's name. The trigger is the the date entered in the field - the date being entered is "updating the field." The action is inserting a new background check record with the applicant's name.
When the application received date is entered (update field trigger), I want SAM to send a confirmation email (send email action) to the family
1. From the SAM Home page, go to Settings > Auto Actions > Create New Auto Action (from the side bar)
2. Name the Auto Action, then decide if you want this Auto Action to happen more than once per record by checking the box (or not), enter a descriptive memo if needed, then click Save
3. Select your trigger type - in this case it will be "Update Field"
Remember: The trigger type is the event that will cause the automated task (action) to be performed. (see this guide for a full description of Triggers vs. Actions)
4) Select the case table that the field is in.

5) Choose your trigger criteria from the drop down menu (in this example, Application Received Date is Not Empty) Users can also add additional triggers at this point.
6) Select the action (in this example, send an email)
7) Select the email template or select "manually enter" to create a new email
8) Select which email address(es) it will go to (click Save)
9) Select which account the email will come from and whether or not you want to confirm the email before SAM sends it. Click Save.
In some cases, you may need to set the value being updated from a value of another field. The gear icon is used to do this.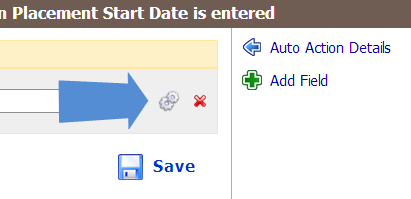 Often Date fields will need to be set as the Current Date or based off another date field.