Before you enable email importing in SAM, please review this guide:
SAM's email importing functionality works by searching your inbox and sent items for emails that match an email address on a record in SAM. Imported emails are stored in Communications under the corresponding entity type (such as family, child, etc.) and labeled as an "imported email".
Requirements for email importing
A match must be made between the email and the record in SAM.
How email importing matches
SAM searches your email server for the following criteria to match the records you have entered in SAM.
Email Address - An email address entered on a main entity in SAM that corresponds to an email address sent TO, FROM, or CC'd of an email. The email address must be recorded through an email address field type in SAM. The BCC field is only searchable for emails you sent and only for certain email providers.
Entity ID - The end of the subject line of an email contains an entity's ID. See Inter-Agency emails below for more details.
Entity Last Name - The end of the subject line of an email which contains a record's unique Last Name. The entity must also be active, 'Active Entity' = Yes to import via name. Example: Subject Line Text Family Zasyatkin. A common last name such as Smith will not match through this method.
This search depends upon how you setup the entity specific email importing options during setup/enable email importing.
When does email importing happen?
Email Importing is scheduled to run nightly. It is not necessary to have Outlook or your mail client opened for emails to be imported. If emails are exchanged between multiple records, the email is stored for all records of the communication.
Intra-agency email communications
Intra-agency emails are emails that are sent and received within your organization. They are excluded and not imported by default, when a user has an organizational email address or their email address is specifically excluded.
To have intra-agency emails imported which are regarding a specific family, child, child location, birth parent, person or organization:
Enter the record's "Entity Type ID #" at the end of the subject line of the email.
For example, "This is an example of a subject line for an email about Child ID 555".
After you send this email to another employee in your organization, it will be stored under the Child ID 555's communication record.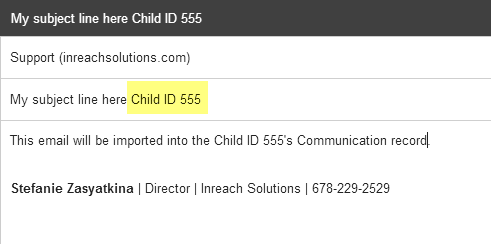 Copy and paste the whole field title and ID, like "Family ID 10", into the subject line, to ensure you have entered it in the correct format. An entity's ID can be found on their Cover Page towards at the top left of the form.
SAM can only accept ONE Entity ID at the end of the subject line, meaning these emails cannot be imported to multiple records. Some SAM Admins have decided to set a Head of Case for sibling groups to import group communications to a single record.

The official "entity type"/"table name must be used, such as "Family" or "Birth Mother" in the subject line before the ID. Changing the field title of the Entity ID field will nullify this option.
Forgot to add the Entity ID?
If you sent or received an intra-agency email without the entity's ID in the subject line and you would like to have the email imported, you can add the entity's ID in the subject line in a reply to the person or you can add the entity's ID in the subject line and forward the email to yourself.
Next Up: Create an App Password and Enable Email Importing